Radiological outcome of proximal tibia fractures treated with MIPPO – a retrospective study
Keywords:
radiological, tibia, MIPPO.
Abstract
Background: The concept of minimally invasive Osteosynthesis using percutaneous plate (MIPPO) was established when it is accepted that the length and alignment of proximal tibia can be restored with indirect manipulation aand reduction a technique. Biological fixation with percutaneous plating augments the healing process without additional risk of wound disruption a and infection. Purpose: The aim of the study was to evaluate the radiological outcome of proximal tibial fractures treated with minimal invasive percutaneous plate technique osteosynthesis.
Method & Material: The present study is a retrospective cohort study conducted based on the data obtained in the operative registry from the Department of Orthopaedics, during the period of September 2019 to January 2021, at R L Jalappa Hospital, kolar. This study included 32 patients with the fracture proximal tibia treated with MIPPO plating technique and age of patient ranging from 20 to 75 years. All the patients meeting the inclusion and exclusion criteria were included in the study. The radiographic images were taken from the database and classified fractures based on schatzkers classification and were evaluated for the radiological outcome based on union time and Rasmussen's radiological criteria for the outcome. Result: A total of 32 patients of proximal tibial fractures were treated with minimally invasive percutaneous plate osteosynthesis technique. There were 20(62.5%) were males and 12(37.5%) were females, with patients in the age group of 26-68 years. 17(53.3%) were right sided and 15(46.8%) were left sided. Lateral condyle involved was 17(53%) >bicondylar condyle involved was 8(25%) >medial condyle involved was 7(21%). Road traffic accident evolved as most common (75%) mode of injury. Fractures were classified according to schatzkers classification. Type 1 of fracture seen in 6 (19 %), type 2 in 3 (9%), type 3 in 10 (21.9%) type 4 in 7 (21.9%) type 5 in 5 (15%) patients and type 6 in 2 (6%) patients. Rasmussen's radiological scoring system was used for final evaluation of the results. According to Rasmussen's radiological score, in our study we excellent radiological outcome was achieved in 25% (8) of the cases and good outcome was achieved in 40.6% (13) of cases and fair outcome was achieved in 34 % (10) of cases and poor outcome was achieved in 3% (1) of cases
Conclusion: Minimally invasive percutaneous plate Osteosynthesis is better technique, and should be considered as primary option for the surgical treatment of the proximal tibia fractures. Radiological outcome of MIPPO technique are excellent and good and comparable to world literature in terms of fracture union. MIPPO technique can be successfully used for the simple or compound fracture of proximal tibia.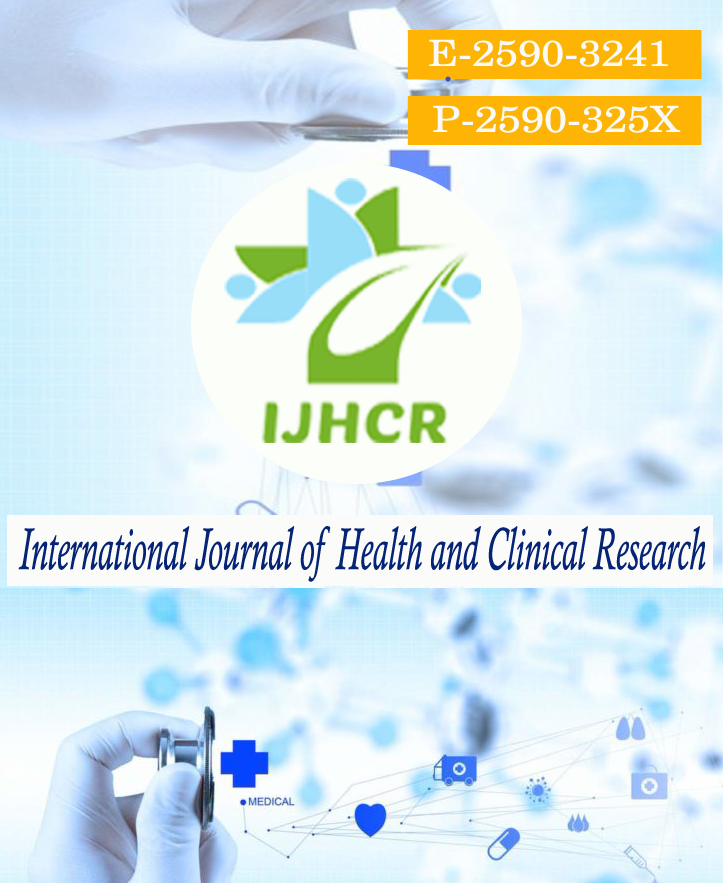 Downloads
How to Cite
Anil Kumar P, Sagar V, Nagakumar JS, & Arun HS. (2021). Radiological outcome of proximal tibia fractures treated with MIPPO – a retrospective study. International Journal of Health and Clinical Research, 4(24), 100–103. Retrieved from https://ijhcr.com/index.php/ijhcr/article/view/3771
License
Copyright (c) 2021 Anil Kumar P, Sagar V, Nagakumar JS, Arun HS
This work is licensed under a Creative Commons Attribution 4.0 International License.