Intrauterine foetal death and associated maternal conditions of rural pregnant women- A prospective analytical study
Abstract
Objectives: Aims of this study is to evaluate the incidence, socio-epidemiological and etiological factors of intrauterine fetal death, maternal complication associated with it, evaluate the measures to improve maternal outcome in rural pregnant women. Material and Method: This prospective study was carried out in the department of Obstetrics and Gynaecology of Rampurhat Government medical college over a period of six months from December 2020 to 31st May,2021, after taking institutional ethical committee permission and with written informed consent form from participant. All antenatal patients who admitted in antenatal ward in our institute with diagnosed intrauterine fetal death after 28 weeks of gestation during study period were included in this study. Result: Incidence of intrauterine fetal death 40.76% per 1000 live birth. Maximum death (39.61%) occurred at age group 21- 24 years. Mean age group was 24.2 years. Majority (60.39%) patient were multigravida and maximum (36.71%) intrauterine death seen at gestational age 37- 39 weeks. Mean gestational age was 35.95 weeks. Maximum cases were unbooked (78.74%) and referred (73%) from other centers.67.15% were from low socio-economic class. 62.4% women are illiterate. Poor antenatal check-up in 60.38% cases. Most common mode of delivery was vaginal delivery( 76.81%), followed by caesarian section(17.87%).Among the causes of intrauterine fetal death, common causes were pre-eclampsia(10.63%), anaemia(10.14%), abruptio placenta(18.70%), obstructed labour(6.28%), intrauterine growth retardation with oligohydramnios(5.80%) and post maturity(5.31%).Most common maternal complication were post- partum psychosis(28.99%) followed by need for blood transfusion(27.05%), intensive care unit support(12.08%), prolong hospital stay(13.04%). 3(1.45%) maternal death occurred in this study.40.09% babies were 2.5-3.5 kilograms birth weight. Mean birth weight 2.67 killograms.52.66% babies were female.57% were fresh and 43% were macerated. Conclusion: Intrauterine fetal death is an important indicator of maternal and perinatal health of a given population. Provision of quality antenatal health check-up, increasing patient's awareness regarding the risk factors and improvement of quality of social life of mothers have potential to reduce intrauterine fetal death.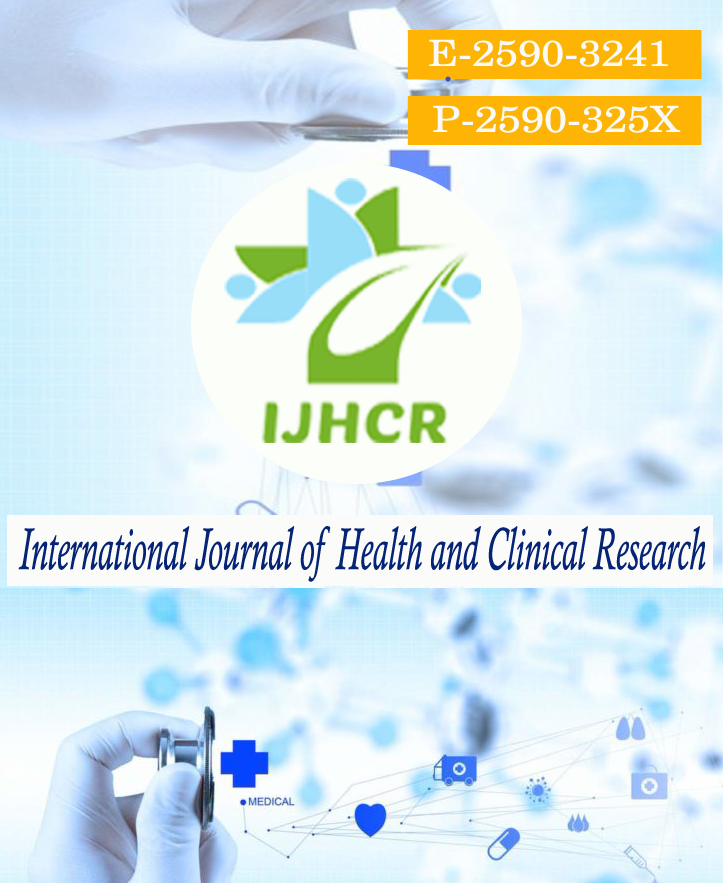 Downloads
How to Cite
Sima Biswas, Swarup Chowdhury, & Rajorshi Keshri. (2021). Intrauterine foetal death and associated maternal conditions of rural pregnant women- A prospective analytical study. International Journal of Health and Clinical Research, 4(24), 323–328. Retrieved from https://ijhcr.com/index.php/ijhcr/article/view/3858
License
Copyright (c) 2022 Sima Biswas, Swarup Chowdhury, Rajorshi Keshri
This work is licensed under a Creative Commons Attribution 4.0 International License.