Clinical parameters in the diagnosis of acute necrotising soft tissue infections
Keywords:
Necrotizing soft tissue infections; NSTI; LRINEC; Diabetes Mellitus.
Abstract
Background: Necrotizing soft-tissue infections (NSTIs) are profoundly deadly. They are incessant enough that general and speciality doctors will probably be associated with the administration of something like 1 patient with NSTI during their training, yet they are rare enough that knowledge of the infection will only here and there be accomplished. Building up the diagnosis of NSTI can be the fundamental test in treating patients with NSTI, and information on all accessible apparatuses is key for ahead of schedule and accurate diagnosis. The research centre danger marker for necrotizing fasciitis score can be useful for distinguishing between instances of cellulitis, which ought to react to clinical administration alone, and NSTI, which requires usable debridement notwithstanding antimicrobial treatment.Objective: To concentrate on the relationship between clinical, lab boundaries and imaging in the diagnosis of NSTI. To break down the importance of Wong's LRINEC rules in assessing NSTI, to distinguish the comorbidities related with NSTI and to decide the meaning of progress in research centre boundaries after the inception of treatment.Methods: It is a prospective report where patients with a clinical diagnosis of complicated delicate tissue disease were enlisted and exposed to investigations at the hour of confirmation and assessed according to proforma. Subjects were isolated into NSTI and SSTI groups because of clinical elements, research facility and imaging discoveries. Intergroup examination was done to distinguish factors related to NSTI.Results: Clinical highlights like tachycardia, tachypnea, hypotension, unbalanced agony, rankles, skin putrefaction, ulceration and change in shading were all together (p150mg/L, RBS>180mg/dl, Total count>16500cells/mm3, Calcium1.4mg/dl were fundamentally connected with NSTI (p<0.05). LRINEC rules had responsiveness of 89.1% and a particularity of 94.3 %. Both X-ray and Ultrasonography are pretty much similarly explicit, however, ultrasonography was more delicate in diagnosing NSTI. Genuinely critical contrast was noted between boundaries done at confirmation and the second post usable period following resurgery.Conclusion: Previously mentioned clinical highlights and lab boundaries can be utilized to analyze, visualize and screen patients with NSTI. LRINEC is a decent apparatus in separating NSTI from SSTI. Ultrasonography is more explicit in diagnosing NSTI than X rays.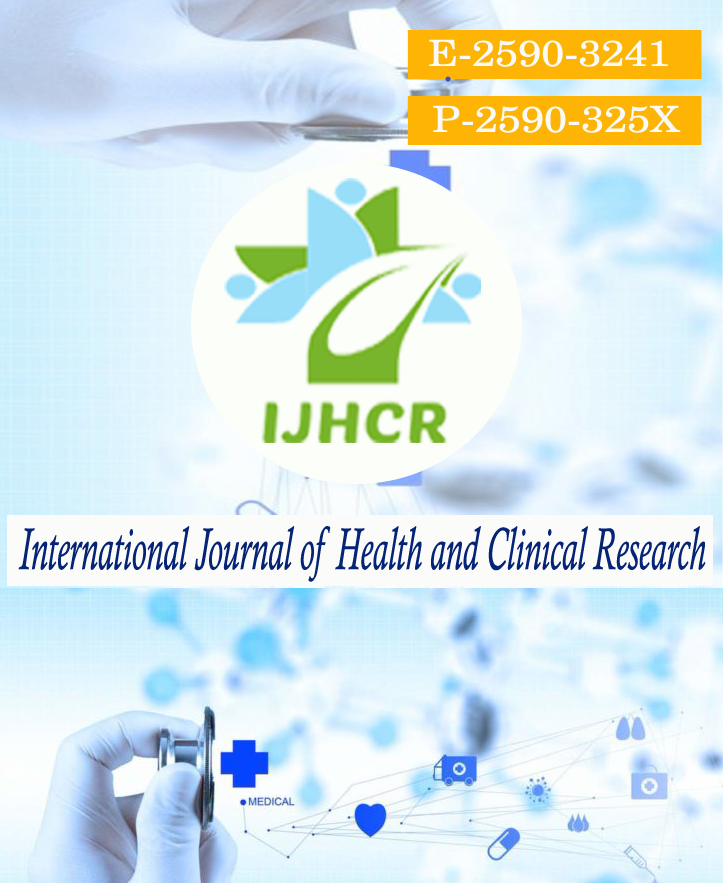 Downloads
How to Cite
Nirupam, Ayush Raj, Ankit Raj, Vibhuti Bhushan, & Abhay Kumar. (2022). Clinical parameters in the diagnosis of acute necrotising soft tissue infections. International Journal of Health and Clinical Research, 4(24), 444–447. Retrieved from https://ijhcr.com/index.php/ijhcr/article/view/4264
License
Copyright (c) 2022 Nirupam, Ayush Raj, Ankit Raj, Vibhuti Bhushan, Abhay Kumar
This work is licensed under a Creative Commons Attribution 4.0 International License.